[11.10.16] Unity Thursday
Happy THURSDAY! It is an evening and weekend of fun with the Unity design team. If you haven't been hopping along, all the action starts on the Unity blog. There's always fun stuff going on. I have a bunch of projects to share with you.
FIRST, I have this darling little card using a BRAND NEW kit released for BROWN THURSDAY (Unity's version of Black Friday)… I Tolerate You.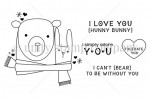 I Tolerate You is all about this cute little bear and his bunny pal. Still perfect for holiday/winter cards, infact, I think I'll do this one again and use a Happy Holidays sentiment from Believe in the Magic. That is what I love about Unity, so easy to mix and match images and sentiments from all the kits.
Anyhoo, for this card, I broke out my patterned papers and paper pieced my heart out on the little bear and bunny. This card feels like I'm visiting an old friend. I've done so much coloring with watercolors or markers lately that paper piecing was such a treat. I used to do it all the time and realized how much I miss it. I've die cut all the rectangles, layered them up, popped up the bear & bunny and finished it off with a bow. Super sweet and super simple to put together.
Next up, we have this pretty one. I love how the background looks like the Northern Lights.
Something about the little deer in this stamp set made me want to create this colorful background setting. I thought it would make for a beautiful and unique holiday card.
The combination of pink, blue and a bit of mint blended perfectly into a bright watercolor background that I also splattered some white ink onto once it was dry. It made for just the perfect magical scene I was hoping would happen.

Here is a quick video to share my process in creating this colorful Northern Lights background.
Now, I couldn't ignore those beautiful trees and snowflakes also available in A Joyous Season. They had to have a beautiful background of their own too.
This time, I used plain old watercolors and an aquabrush to create a soft winter-ish background in blues, purples and a bit of blueish-green. Here's a trick, cover it with vellum and your painting doesn't have to be perfect, just vibrant enough to show through. I love the softening effect the vellum adds to the card. What do you think?

Here is a quick video to share my process in creating this watercolor winter background.
Say hello to Mister & Missus Fox… aren't they adorable!?! Say yes, please. Because I just couldn't stand it if you didn't.
Now, I have some more practice to do with watercoloring. I'm more confident with backgrounds and techniques when it comes to watercolors. Detail work and images are SO much harder. But it takes practice and that is just what I'm gonna do. Normally, I'd grab my Copic markers for this type of image, but I'm happy with how it turned out.  And these too are too cute for it to go bad, right?
That is all from me today.
** COMMENT PRIZE **


Don't forget to leave a comment on each blog as you hop with us today.
Just click on the next pretty girl in line to continue on your way.
{Bear} To Be



Northern Lights card



Joyous Season card



Mister & Missus Fox card